Author: Eko Tjiptojuwono
Origins of Counter Trade
Countertrade atau imbal dagang adalah perdagangan timbal balik antara dua negara / perusahaan dengan cara membeli barang dari luar negeri dengan pembayaran berupa barang yang senilai dengan barang yang diimpor.
Pelaku countertrade:
Swasta dengan swasta
Negara dengan swasta
Negara dengan negara
Contoh Countertrade:
Indonesia negotiated for a power station project with Asea Brown Boveri and for an air traffic control system with Hughes Aircraft. Counter purchase obligations were to be 100 percent of the FOB values. The firms export, through a trading company, a range of Indonesian products: cocoa to the United States, coal to Japan, and fertilizer to Vietnam and Burma.
Lockheed Martin agreed to sell F-16 military aircraft to Hungary in exchange for large investment and counterpurchase commitments. The firm agreed to buy $250 million (U.S.) worth of Hungarian goods. It established an office in Budapest to participate in tendering and to procure the country's industrial goods for export.
Benefit of Counter Trade
Benefits for Buyers
Transfer of Technology
Alleviating Balance of Payments Difficulties
Maintenance of Stable Prices for Exports
Benefits for Exporters
Increased Sales Opportunities
Access to Sources of Supply
Flexibility in Prices
Theories of Counter Trade
Countertrade berkorelasi positif dengan tingkat ekspor suatu negara. Countertrade sering digunakan sebagai pengganti investasi asing langsung. Aktivitas countertrade dapat digunakan untuk mengontrol tingkat devisa. Countertrade berkorelasi positif dengan tingkat hutang negara.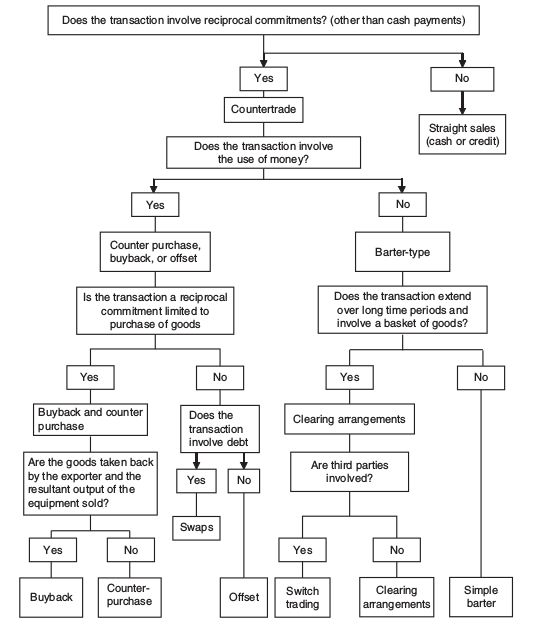 Bentuk-bentuk Counter Trade
Exchange of Goods (Services) for Goods (Services)
1. Barter = Pertukaran langsung barang dan jasa antara dua pihak perdagangan.
2. Switch Trading = Pengaturan di mana pedagang perantara (switch trader) akan membeli  barang untuk sejumlah mata uang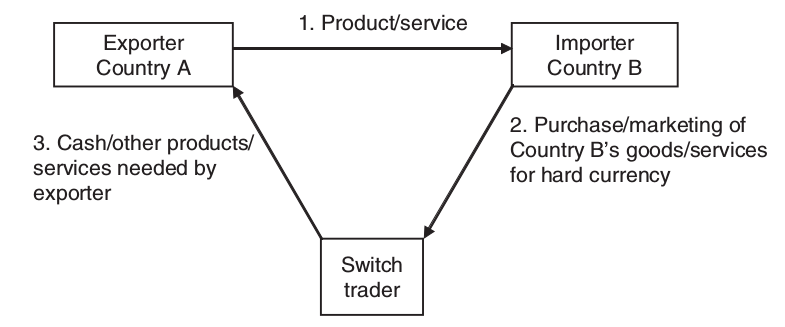 3. Clearing Arrangements = Sebuah metode di mana kedua pemerintah sepakat untuk membeli volume tertentu barang / jasa masing-masing selama periode waktu tertentu. Jika jumlahnya tidak sama, maka sisanya dapat dilakukan pembayaran dengan uang, tambahan barang lain, dianggap sebagai utang piutang, atau menggunakan switch trader.

2. Parallel Transactions
a. Buyback (Compensation Agreement) = Pengaturan di mana sebuah perusahaan di dalam negeri akan menjual barang modal atau lisensi teknologi untuk pelanggan luar negeri dengan perjanjian untuk membeli kembali hasil dari penggunaan barang modal atau teknologi tersebut.

b. Counter purchase = Dua transaksi paralel di mana sebuah perusahaan mengekspor produk ke pembeli di luar negeri dengan janji untuk membeli dari pihak lainnya dari negara tersebut barang yang tidak terkait dengan ekspor sebelumnya.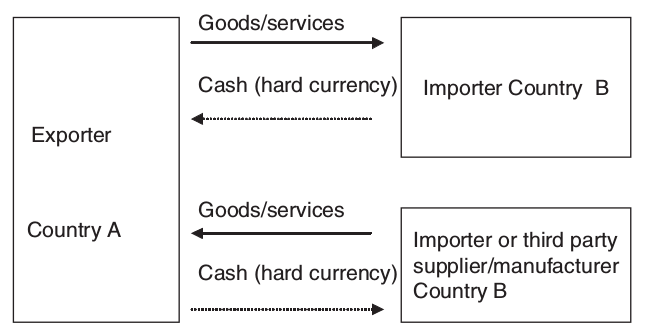 c. Offsets (Direct & Indirect Offsets)
1) Direct Offsets
a) Coproduction = pengaturan ijin dan produksi bersama dengan pelanggan di luar negeri
b) Subcontractor production = Pengaturan untuk produksi di negara pengimpor, bagian atau komponen dari produk yang akan diekspor
c) Investments and transfer of technology = perjanjian dengan penyediaan investasi dan transfer teknologi ke negara pengimpor
2) Indirect Offsets
Pengaturan di mana barang dan jasa yang tidak terkait dengan ekspor diperoleh dari atau diproduksi di negara pengimpor.